Why Ceiling Cleaning?
Every year millions of dollars are wasted because ceiling tiles are replaced unecessarily, or are ruined by painting, when all that is needed is a good ceiling cleaning.
Ceilings provide:
Light reflection
Aesthetic appearance
Flame retardant
Noise reduction
Insulation
All of the items listed above can be affected by how a ceiling is maintained. A poorly maintained ceiling may become a health hazard.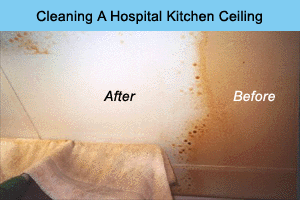 Whether they say so or not, your customers form an opinion of your establisment based partly on its cleanliness. Have you ever seen dirty ceilings in a restaurant? Did you ever feel the same way about that restaurant again?
If given a choice, most people would choose the cleanest place to eat, work or receive healthcare. Some people may prefer older establishments, and some may prefer newer establishments, but we all prefer clean establishments.
Contact Us if you need help deciding whether to clean or replace your ceiling.
Would you like to share your knowledge about keyphrase? Contribute to www.ceiling-cleaning-answers.com!